Mark Stock (1951-2014)
We are saddened to report that Mark Stock died suddenly in Oakland on March 26th. See obituaries in the Los Angeles Times and the San Francisco Chronicle.
Mark's Memorial has been set for:April 30, Wed, 1PM
Oakland's Scottish Rite Center
4th Floor Theatre
1547 Lakeside Drive
Oakland, CA 94612
Some of his recent shows:

H O L L Y W O O D
UNCOVERED

November 2nd - December 31st, 2013
Lora Schlesinger Gallery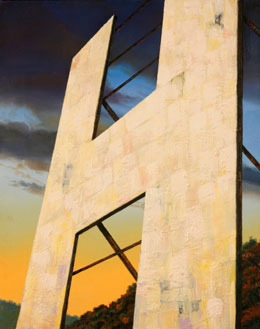 'H', 2013, oil, encaustic and collage on linen, 29"x23"
To see more paintings from the show, go here.
Mark Stock will present a new series of paintings, "Hollywood Uncovered", depicting the Hollywood sign, letter by letter. The show will also include a number of related figurative paintings and a few surprise images channelling the macabre, dangerous and sensual history of Hollywood as well as some of the artist's own personal demons.
The public is invited to attend a reception for the artist on Saturday, November 2nd, 2013.
2525 Michigan Avenue, #T3
Santa Monica, CA 90404
Tues - Sat 10 - 5 • (310) 828-1133

RECENT SHOWS
Stage Stories
March 1st - April 21st, 2012
MODERNISM GALLERY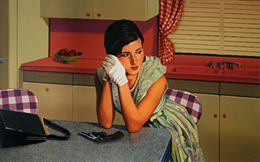 Assumed, 2012
685 Market Street
San Francisco, CA 94105
Tues - Sat 10 - 5 • (415) 541.0461