H O L L Y W O O D
UNCOVERED

November 2nd - December 31st, 2013
Lora Schlesinger Gallery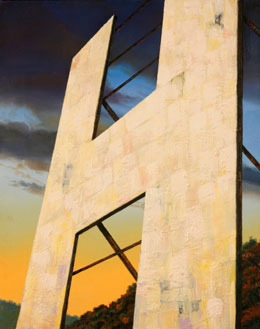 'H', 2013, oil, encaustic and collage on linen, 29"x23"
To see more paintings from the show, go here.
Mark Stock will present a new series of paintings, "Hollywood Uncovered", depicting the Hollywood sign, letter by letter. The show will also include a number of related figurative paintings and a few surprise images channelling the macabre, dangerous and sensual history of Hollywood as well as some of the artist's own personal demons.
The public is invited to attend a reception for the artist on Saturday, November 2nd, 2013.
2525 Michigan Avenue, #T3
Santa Monica, CA 90404
Tues - Sat 10 - 5 • (310) 828-1133

RECENT SHOWS
Stage Stories
March 1st - April 21st, 2012
MODERNISM GALLERY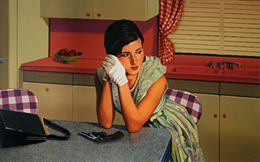 Assumed, 2012
685 Market Street
San Francisco, CA 94105
Tues - Sat 10 - 5 • (415) 541.0461